This Week in #CollegeApps II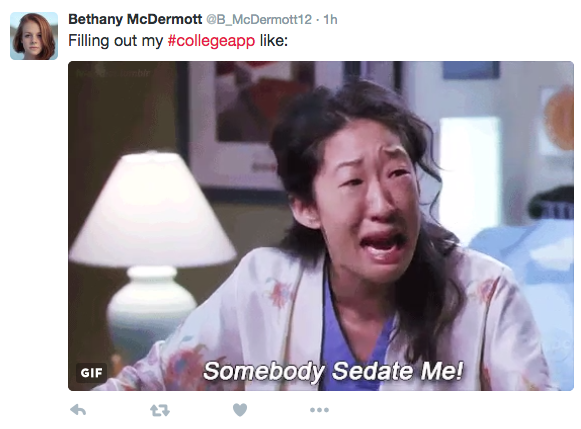 If you're filling out your college application and you don't Tweet about it–did you really fill it out? We thought not.
The Admit.me team is LIVING for your #collegeapps tweets.  Here's the best of the best from this week:
#10: When you realize your childhood is RAPIDLY coming to a close:
Looking at all of these job and grad school applications like pic.twitter.com/41ZnGcx809

— K 🎄 (@badkelp) August 3, 2016
 #9: Just ease into the pain…
Why do #collegeapps ask me so many personal questions? Is this an interrogation? At least buy me dinner first… pic.twitter.com/Ng3dzToRpl

— Bethany McDermott (@B_McDermott12) August 5, 2016
#8: Like Pokemon, gotta catch 'em all:
catch ya girl getting rejected everywhere she goes #collegeapps

— victoria kq 🌼 (@Victoria_KQ) July 21, 2016
 #7: We'd all be rich (including the alumni that STILL GET THEM UGH):
If I had a dollar for every college that emailed me that the common app was open

— Lili Rebelo (@Lili_Rebel) August 1, 2016
 #6: Here's my autobiography in 5 parts:
College Application: "tell us about a time you failed"
Me: "well sit down and buckle your seatbelt because you about to get learned"

— Jessica Miller (@jcatmiller) July 26, 2016
 #5: I mean…I guess you had it coming:
I've been stressing about college since freshman year so I guess now is my time to shine #HappyAugust #collegeapps pic.twitter.com/sjq4E8LaII

— Sweater McQueen🎄 (@skyelerbear) August 1, 2016
 #4: Someone else, take the wheel…
someone point out my notable qualities I'm trying to write the common app essay and it is Not Happening

— iris (@piece_of_haik) July 27, 2016
 #3: RT Forever:
the common app is not common enough

— helen (@miss_moreau) July 27, 2016
 #2: Parents just don't understand…
my dad told me to write down my whole college application story and now he is mad bc i was "too personal" in that wtf what an ass ugh

— devyani (@BARNEYSROBlN) July 27, 2016
 #1: Yes. Just Yes. 
me at 3:30am: I should write my college application essay comparing myself to a swamp hag

— swamp hag (@whaleyoubemy) July 27, 2016
 Bonus: We all have our priorities, mkay?
college application: what is your greatest accomplishment?
me: pic.twitter.com/I8uR0VuGbn

— MAJOR KI 🔑 (@anaikclarece) July 26, 2016
Like what you see? Tweet us @admitme for YOUR chance to be featured! #neverapplyalone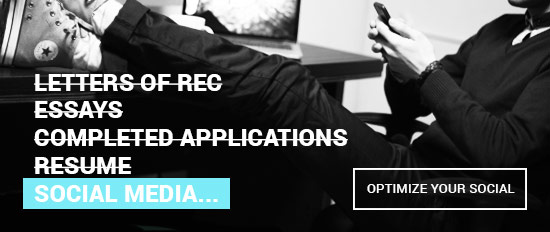 Kofi is maniacally focused on ensuring that Admit.me provides equal access to college and grad school for all applicants. He is still trying to recover from his poverty-inducing days at Harvard, Harvard Ed, and Wharton.
@TheRealKof
Get more admissions help at admit.me
Latest posts by Kofi Kankam (see all)